Love What You Do,
Love Where You Do It.
Ready to Take Your Career to the Next Level?
Come discover why the best hairdressers call Tangerine Salon home. We believe in providing the best place to work, while providing the best luxury hair care, expertise and results for our guests. If you are looking for a long term career, one that challenges, rewards and never gets complacent, then learn more about life at Tangerine Salons
Your Best Work Life is Just a Click Away…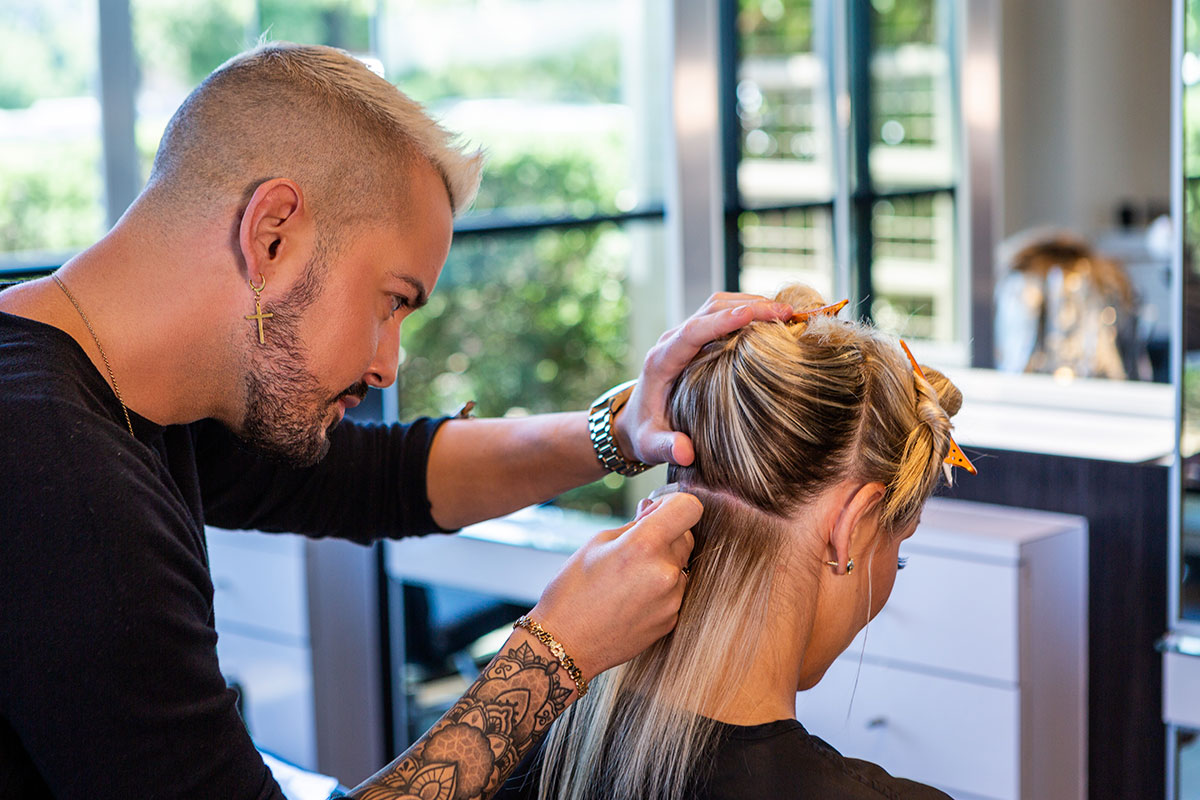 We Want the Best for Our Team!
With the goal of creating the best work life possible for our team, we deliver some of the best compensation plans, benefits for peace of mind & creative environments in the business. Don't leave your career to chance, but join a company that puts your well being, success and professional growth as a priority.
Click or Tap each section to learn more.
Compensation, Mentorship & Management Support . . .
Prosperous Compensation We believe that the financial reward of working is a by-product of being your best everyday, so we have an amazing compensation program geared for you to be in the best financial situation possible. Throw in benefits like health insurance, paid vacation and education assistance and Tangerine's compensation plan is designed for you to live your best life. Our goal is for you to be a six figure stylist doing what you love.
Caring Management & SupportWe want our stylist to focus on what they do best, hairdressing. Our management team is devoted to making sure our team has every resource to be successful. From our Marketing Director to our Education Director, you will have every area of your career supported.
Mentorship & GrowthOur Mentor Team is an amazing group of hairdressers that include Aveda Purefessionals, high profile reality TV stylists and dedicated servants to our team. They know every facet of how to become a successful hairdresser, to be techncically great and always in demand. Our desire to grow up the next generation of Tangerine hairdressers drives us to always be teaching, always be growing.
Education & Creativity . . .
Education Customized to Your Needs We don't sit still when it comes to education. No matter where you are in your career, your skills will flourish through advanced knowledge and enhanced techniques. Our apprenticeship program is designed to kickstart your career and our advanced education built to keep you at the top.
Unlimited Creative Outlets From Photoshoots to video, We are constantly creating content for our marketing and YouTube channel. This hands on editorial experience is an amazing opportunity to enhance your daily hairdressing. Have an idea? We can make it come to life. Check out our Creative page.
Amazing Partnerships & Brand Awerness . . .
The Trusted Salon of the Dallas Cowboys Cheerleaders It's our job to keep the most famous group of women in the world beautiful and camera ready. The DCC chose Tangerine for this responsibility because of our reputation and commitment to excellence and service. That translates to building trust and awareness for our brand and ultimately people choosing Tangerine when looking for a salon.
Featured on National & Local Television Our team is often found on local and national tv shows from CMT's Making the Team to Good Morning Texas. We are constantly promoting our brand and utilizing every medium we can to grow our client base across Dallas.
Benefits for Peace of Mind . . .
Health Insurance, Paid Vacation & More What career would be complete without benefits such as health insurance, paid vacation and education assistance? We want our team to be the best for us and our guests, so we always do our best for the team.
Kelsey McCarroll
Dallas / Preston Hollow Village Location
"The positive atmosphere is noticeable at all levels. While looking for a new salon home, what drew me into Tangerine was the instantaneous feeling of a sense of company loyalty with anyone who I engaged with.
One of the best parts of being a stylist for Tangerine is knowing that they will always be there to support your journey. I directly felt that my quality of life would significantly improve and allow me to meet my family's needs as well as my own desire to continue my professional career."

Luxurious Spaces
Designed for Creativity
Our Dallas salon, with the 30 foot glass windows, mezzanine and luxurious amenities is often seen in magazines, on national TV shows and more. Our vibrant clientele come from all over the metroplex to enjoy our service & style.
Our Frisco salon is located at the 90 acre master planned home of the Dallas Cowboys. With amazing restaurants, shopping and of course, The Cowboys, our Frisco salon is always in the spotlight.
Highland Village / Flower Mound
Nestled in the Shops at Highland Village, this location is bustling with amazing clients from all over North Dallas, Denton, Argyle and Lantana. Luxurious surroundings and amazing staff make this salon the busiest in the area.
Our original location also houses The Spa at Tangerine as well as 20 stations, our reservation center and 5,000 square feet of creative space. This is where it all started and our Coppell clientele are amazingly loyal.
One of our most beautiful settings, Tangerine Salon in Allen is across from a creek where you often see baby ducks frolicking about. Peaceful and serene outside, but busy and creative inside.
Choose Next Topic to Learn About